Overview
If your Medical-Objects Download Client (Or Capricorn) is offline, then no patient reports or referrals will be getting delivered. The best way to tell if your Download Client is functioning is to attempt to load the Activity report, by clicking the Black and Red HL7 icon on the desktop. For more information on the Web Activity Report, Please see this link.
Possible Causes
There are several reasons why the software may have stopped functioning - these include but are not limited to:
PC or Server being upgraded or replaced
Recent visit by your IT Technician
Software upgrades e.g. upgrading Practice Software
Internet Connection issues
Firewall changes.
Remedy
First you will need to determine if Medical-Objects Capricorn is running as a Service or a tray icon.
To determine this, go to the computer Medical-Objects is installed on (generally server or downloads computer) then hold down the Windows key on your keyboard and press R.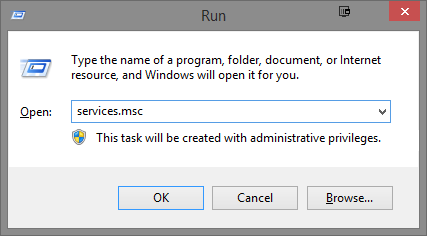 In the Run box that pops up, type services.msc and hit OK.
If Capricorn is listed then your Medical-Objects is installed as a service. See the service install section. If it is not listed, See the Tray icon section.
Service Install
In most cases the Capricorn service may just need a restart - or to be started. From the Services window, Simply right click the Capricorn service and select Start or Restart.

If the service does not start, Try starting the download client from the Capricorn.exe located in the C:\MO\Capricorn folder. 
Tray Install
Check the bottom right hand corner of your screen near the clock for the black and red Medical-Objects Capricorn icon. You may need to hit the arrow to show all icons. 



Double click this icon to open the Medical Objects Capricorn. This may take several moments. If the application does not launch or presents an issue, Please contact the Medical-Objects Helpdesk as soon as possible.
Contact support
If this guide does not help solve the problem, please contact the Medical-Objects helpdesk.
Phone: (07) 5456 6000
Email: helpdesk@medical-objects.com.au