Versions Compared
Key
This line was added.

This line was removed.

Formatting was changed.
Overview
Provide a procedure to install and configure This guide provides instruction on configuring both Medical-Objects Capricorn .
This procedure covers the Total Care clinic system.
Configuring Capricorn Software
Double click the
 HL7
 Tray icon.

and Total Care software to import electronic results.

If you require any assistance with the installation or configuration, or if you have any questions, please contact the Medical-Objects Helpdesk on (07) 5456 6000.

If you have not Installed the Medical-Objects Download client, Please see the guide for Installing Capricorn on Windows.
Configuring Capricorn Software 
Accessing the Capricorn Configuration Window
Message Box
| | |
| --- | --- |
| icon | none |
| title | Note: |
| type | generic |
If the Capricorn HL7 tray icon i
s not visible, open Capricorn from
Start Menu > All Programs > Medical-Objects > Medical Objects Capricorn
or from
In some cases, the Capricorn may be configured as a service. See
this guide
for instructions on how to launch the Capricorn if it is set up as a service. 
Excerpt Include
| | |
| --- | --- |
| | How to access Capricorn Configuration |
| | How to access Capricorn Configuration |
| nopanel | true |
Capricorn Configuration Settings
Click on

Integration Options

in the left hand panel.

Set the

Ack Management

path to

C:\MO\Capricorn\

Capricorn.exe.The Log window is displayed.





Click the 

Edit Server Properties

 icon.




 




 

Application_Acks

Tick the

Export Application Acks

box

Enter the path

D:\Equipoise\Totalcoms\Link\MO\InTray

(Where D is your computers drive letter)

Make sure the

Incoming Modifier

is set to

Capricorn Modifier




Click on Server Parameters in the left hand side panel.

 
 

Under the Message Output Directory (main) set the results import path.This should be the in the following folder under the Total Care Results drive on the server: Alchemy\Totalcoms\203\Link\MO\CC1\InTray\
 

Message Box

| | |
| --- | --- |
| icon | none |
| title | Info: |
| type | generic |

Once completed you will need to contact TotalCare to ensure they are picking up the results from the folder that you have specified.

Code Block

Total Care

Phone: (07) 4353 2425 - Choose option 1. 
Total Care Recipient Setup

Please ensure for people receiving Totalcare reports that they set each Recipient Communications settings as below.


Image Removed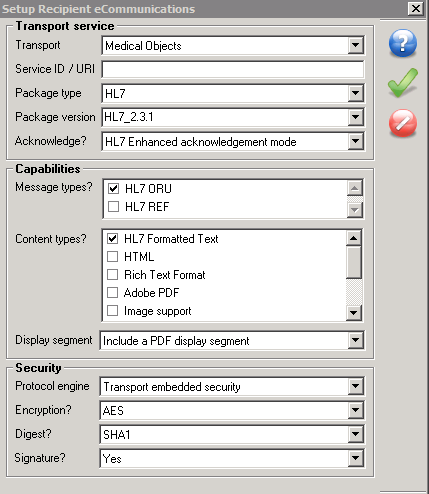 Image Added