Medical-Objects provides an electronic 5 star review form directly on our customer's desktop after performing remote IT services. Please see our example below: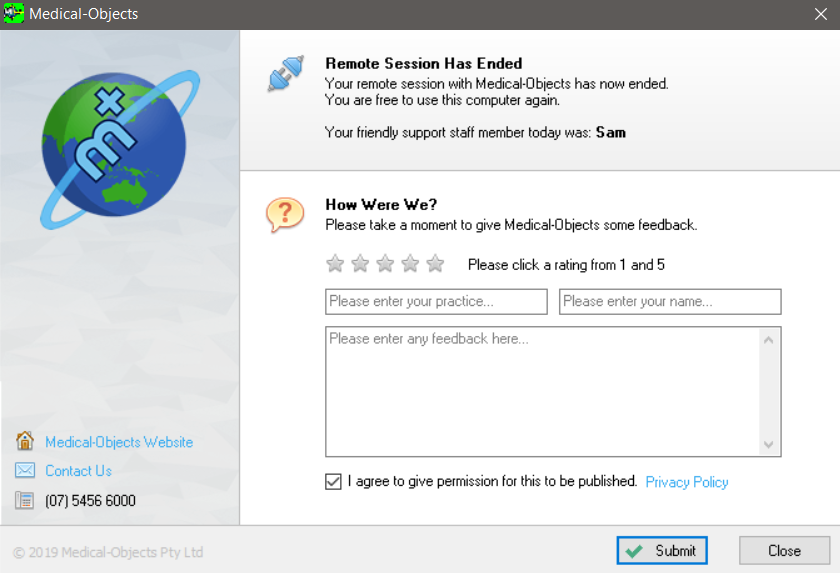 The Review forms are filled out by the customer and electronically submitted to our website where they are processed using our Online Review policy. The Medical-Objects Online Review policy aims to comply with the Australian Competition & Consumer Commission (ACCC) guidelines for managing online reviews. 
Displaying of Customer Reviews:
Medical-Objects will display all reviews excluding reviews that mention staff names due to staff privacy. Please note: staff names are not published for both positive and negative reviews. All negative reviews will still be addressed internally as Medical-Objects strive to provide the best service possible. Medical-Objects need to be able address negative reviews so we can provide follow ups responses to the review posted on our website. 
In addition, duplicates are also removed if posted at the exact same time. Reviews posted by customers that have been marked as 'Do not publish' will be automatically archived and will not be visible within the Customer Reviews webpage.
Editing of Customer Reviews:
The content of reviews are only edited to correct spelling mistakes before posting on the live website.
Identifying fake reviews:
Fake reviews are uncommon in our review process as reviews can only be completed by a practice after we have provided remote IT support. If in the case a fake review is identified we will archive the review and it will no longer be counted or visible within the Customer Reviews webpage.